Pictures showing various stages of restoration of my Heathkit GR-91 receiver.

Click any picture for a close up view then click your browser's back arrow to return to the picture listing.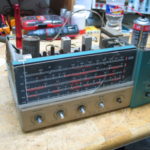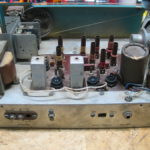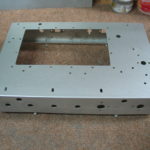 The first picture shows the GR91 as it arrived from the seller. The top cover was missing along with the bottom metal plate. I have since purchased a metal plate cut to size and fitted with 4 new feet. The middle picture shows the dirty PC board and discolored chassis. The right picture shows the fully disassembled GR91 receiver chassis. The chassis was sanded to remove discoloration and corrosion then thoroughly cleaned of all sanding residue. The chassis was then spray painted with Rustolium Metallic Satin Nickel paint. The chassis looks brand new.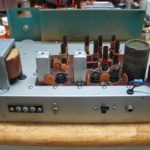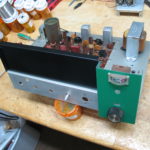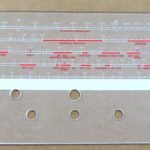 The left picture shows the cleaned up PC board with new disc caps replacing the missing or broken original capacitors. The power transformer on the left rear corner was cleaned up and the mounting strap was panted Silver using Testor's model Silver paint. The middle picture shows the front pane Black background cleaned and painted Black Satin and the Green right front corner panel was sanded and painted Green. The right picture shows the new dial made by Radio Daze. The original dial was cracked half way up the middle and eventually broke in half. Still more work to be done.