1953 Heathkit AT1 CW transmitter during various stages of restoration
Video link below showing the AT1 operational on 3.535Mhz at 12 watts into an MFJ-260C 50 ohm dummy load
http://w5rkl.com/wp-content/uploads/2016/04/Fully-restored-and-operational-1953-Heathkit-AT1-transmitter.wmv
The following pictures show the 1953 Heathkit AT1 transmitter in various stages of full restoration.

Click on any picture to see a larger/closer view of the transmitter. Use your browsers back arrow to return to picture listing.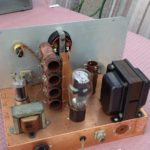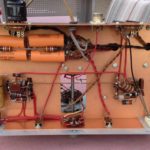 The first set of pictures show the physical and original wiring condition of the AT1 as it was when I received the transmitter. Note the middle picture shows a 2E26 final tube in place of the original 6L6 final tube. The 2E26 was removed along with the components and replaced with a 6L6 and original final tube circuit.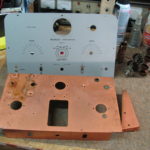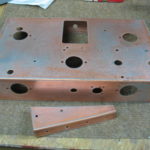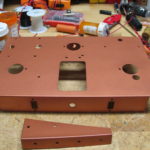 The second set of pictures show the fully disassembled AT1 chassis and coil support bracket. The chassis is discolored especially around the left rear corner where the power transformer sat. The chassis and coil support bracket were sanded and cleaned. I then painted the chassis and coil support bracket with Rustolium Metallic Copper paint making the chassis and bracket look brand new.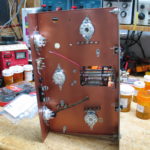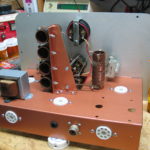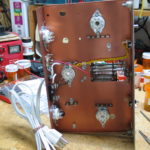 The next set of pictures show the replacement new octal sockets, new multi-tab terminal strips, and new ground tabs. The middle picture shows the coil bracket with all the coil remounted to the chassis. The power supply filter choke was also mounted. The right picture shows the replacement 2 blade polarized power cord and the addition of a fuse holder. New rubber grommets replaced the original dried out and brittle grommets.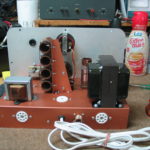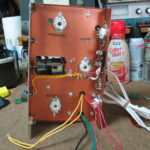 The next set of picture show the "new" power transformer from Hayboer Transformer in Grand Haven, Mich. The original power transformer overheated. The right picture shows all new components and wiring completing the rewiring/rebuilding of the AT1 transmitter's chassis. Initially the transmitter was wired to key only the final amplifier, leaving the oscillator to run continuously in transmit. I changed that option so both the oscillator and final amplifier are keyed in transmit.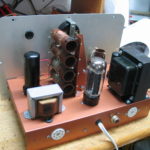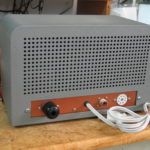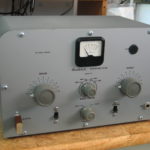 The final set of pictures show the completion of the full restoration of my AT1 transmitter. The cabinet was lightly sanded and painted light gray. A previous owner added a power indicator on the front panel, ruining the panel. I removed the indicator and used a solid rubber grommet to cover the hole. I replaced the original wide body 5U4 with a slim 5U4G rectifier tube. The link at the top of this page is a video link showing the AT1 being tested on 80 meters. Performing the full restoration of my AT1 transmitter was a lot of fun. The transmitter works as designed and produces a very clean, click and chirp free, RF signal.